by Margaret Witherington
---
(Source: Queensland Manx Society (2004). Gems of God's Earth. Brisbane.)
---
On a beautiful summer's day in 1995 I stood on Maughold Head, on the east coast of the Isle of Man, with a friend of mine from school days. We cast our eyes southward across Laxey Bay; eastward – past the lighthouse and across the Irish Sea to the Mull of Galloway and the Cumberland Mountains; northward to Ramsey; and then inland to North Barrule and the chain of hills that form the 'backbone' of the Island. Nearby was Maughold church, where the Island's largest collection of Celtic crosses is housed, and just outside the churchyard were some lovely red fuschia bushes. As I drank in the view I was filled with a sense of gratitude that I had been born on this wonderful Island.
When you are born and brought up in a place you don't always appreciate what you have at the time. Looking back at my childhood now, I realise that I was just so fortunate to have grown up on the Isle of Man.
I came to Australia in 1966 but it wasn't until about 1990 that I first had contact with the Queensland Manx Society. At first I was amazed at the enthusiasm of other members. They were just so interested in their Manx heritage, and so keen to get, and to share, any knowledge of the Isle of Man. It's been such a pleasure to get to know so many of the members – I value their friendship and I'm really grateful to them for passing on their enthusiasm and for stirring up in me so many memories of the Isle of Man and the days of my youth spent there.
Whilst I lived in Douglas, the capital, we were really on the outskirts of the town, with fields stretched out behind us. With my friends I spent many happy hours playing in those fields. We would run through them, down to the river at Tromode – where my Father used to fish. Over the years he caught some lovely salmon there and in 1954 he caught a record-breaking salmon (15lbs. 10ozs.) His name was recorded in the Douglas and District Angling Club's Year Book and his record still stood in 1995. As there is far less water in Tromode River these days it is unlikely that his record will be broken.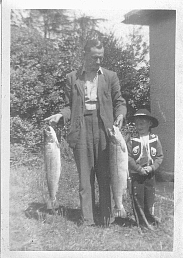 When I was about eleven we moved out to Signpost Corner (on the TT course) on the road from Onchan to Hilberry. There were only half a dozen houses there in those days and we were surrounded by fields where we were able to gather mushrooms and blackberries. Today those fields are all gone and those few houses are lost in the midst of a huge housing estate.
The Island really came to life in the summer months and of course we always looked forward to that season. It started with the T.T. races – first practice week at the end of May and then the actual race week. It was an exciting time for us as children – we would be at the pits for the early morning practices, hoping to get some autographs from the riders. There was no school during race week so we were able to go out for the day to watch the races – usually from a vantage point on a hedge near Signpost Corner.
In those days Tourism was still a major industry on the Island and many visitors from England came over for their holidays. This included my cousins from Scotland and England and we had a great time together through those summer months. For our own holiday we sometimes travelled all the way to the west coast of the Island, where we stayed at Glen Wyllin.
Mum and Dad loved to get out and about on weekends in the summer and we would go all over the Island. We always took a picnic with us but of course the weather could never be guaranteed even in the summer and many a time we would end up having to sit in the car to eat our picnic. It was all part of the fun! Mum loved to go to a beach and have a swim in the sea and it was at Ramsey one year that she taught me to swim. The water was always too cold for Dad but he was happy to just relax on the beach while we swam.
Summer meant such things as enjoying plenty of Manx kippers, walking along the Promenade at Douglas at night-time so that we could see the lights festooned along the 'prom', and dancing at the Palace ballroom (now the Casino). The sunken gardens on the 'prom' were in full bloom for the summer and the fountain would be going.
These all seem such simple things, yet they were all a big part of summer on the Isle of Man for me – things to be looked forward to from year to year and now things to look back on – all part of my memories of a wonderful childhood on the Isle of Man.
---